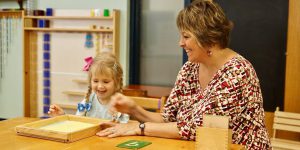 Education for their children is one of the most important decisions that parents make and touring schools of varying educational philosophies can help families make an informed decision. Experience the Montessori school community and learn about this successful century-old approach to education which combines hands-on learning, multi-age classes and individualized instruction. Take a tour of the school and see the carefully prepared classroom environment to understand how this method cultivates the child's natural desire to learn.
Montessori School of Waukesha has built a solid reputation of excellence in preschool, elementary and adolescent education for almost 50 years. While the Montessori education encompasses the whole child, Montessori School of Waukesha's academic excellence is evidenced by standardized test scores.  Montessori students in grades 4-6 scored at least two to three years above chronological age, often at high school level. Included in the curriculum are: Music, Spanish, Art, Physical Education and Computer Instruction.
The school is a community partner with the School District of Waukesha and Kettle Moraine's 4K programs. Utilizing the Early Childhood Environment Rating Scale (ECERS), on which all community partners are evaluated, Montessori School of Waukesha attained a rating of 100% in:
• Math, number, nature & science activities
• Language-reasoning
• Art, music & movement
• Safety practices
• Promoting diversity
Montessori School of Waukesha has helped children ages 20 months to 8th grade develop into joyful, accomplished and inquisitive individuals for almost 50 years.